The song I sing is universal,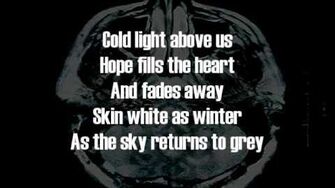 without words it shows my woes and pains.
My singing voice is a throaty wail,
that escapes my lips as my life wanes.
I do not sing for entertainment,
nor do I sing for sport;
I'm singing because at this moment
my soul is falling apart.
It is a painful endevour.
It is earsplitting, I'm sure.
But this is not for your human ear,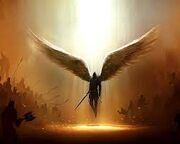 but for the long-past pure.
I'm singing for the angels,
those who death has already met.
For those who's murder left them mangled,
who left life with no regret.
I'm singing for the children
who had their lives cut short.
For the victims of war, men
who passed away at fort.
I'm singing for the mothers
with children they left in messes,
for the little girls who could not utter
when their captors pulled up their dresses.
I'm singing for those who have suffered, 
those who's life has long-since passed.
The ones who perservered even through the bad,
strong until their breath of last.
It is in my time of dying that I lie here and sing,
sing out for the understanding, merciful
to take me from this miserable world upon a wing.
I sing out the Anthem of the Angels.
Ad blocker interference detected!
Wikia is a free-to-use site that makes money from advertising. We have a modified experience for viewers using ad blockers

Wikia is not accessible if you've made further modifications. Remove the custom ad blocker rule(s) and the page will load as expected.