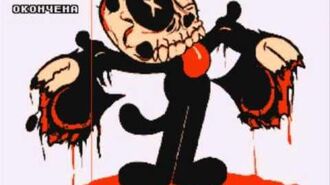 Does any one remember the classic cartoon Felix The Cat? Well that is easy because most people know of him from the 1959-61 cartoon or the other show The Twisted Tales of Felix the Cat. As most of you know there was a NES game of the same name. Published and developed by Hudson Soft in 1992 in North America and 1993 but not many know of a 2012 bootleg for the Sega Mega Drive. Little is know who made it or published it but its known for its graphic game over screen. It shows Felix's ripping off his face showing a skull with and sticking is tongue out. He also has one eye x-ed out and one still normal. With a puddle of blood near his feet with the text that reads Игра окончена witch translated it says "The Game is Over". Its from artist Kris Balerite but no info about him has been found. The drawing in question is know as "Felix the Cat Unmasked". But why would the pick a morbid photo like this?
Ad blocker interference detected!
Wikia is a free-to-use site that makes money from advertising. We have a modified experience for viewers using ad blockers

Wikia is not accessible if you've made further modifications. Remove the custom ad blocker rule(s) and the page will load as expected.