Warning
this is based on a true story so you about to see that creeps the hell out of you so 18+ only
Trying this glitch will hunt your dreams until you died so DO NOT DO THE GLITCH
if you dare look down below
When a house with mannequins is first entered, they may be in different positions from where they are supposed to be, or armor may be invisible. They can also act like a normal person looking at you and moving its head. To fix this; either leave the house and come back or go to the mannequin's stand, activate the mannequin where its supposed to be, and add or remove items.
Sometimes armor will not be able to be removed due to it being noted as teammate's starting armor.
If a piece of headgear is put on top of body-gear which would normally not allow it (such as Archmage Robes or Hooded Thalmor Robes), the mannequin's head may disappear.

 PC 

 

 360 

 

 PS3 

 Most apparel duplication has been patched as of 1.7, however, with the Hearthfire plugin installed the first armor set placed on the mannequin in a built house may be duplicated by:
     (REPORTS BELOW)                   This maybe get removed and so scary that nobody ever want to see this
http://www.youtube.com/watch?v=G-wZh4FyrWg
http://www.youtube.com/watch?v=R5HwwwbK9mE (NEW!)
Coming soon
Photos below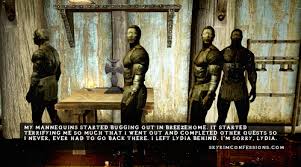 Ad blocker interference detected!
Wikia is a free-to-use site that makes money from advertising. We have a modified experience for viewers using ad blockers

Wikia is not accessible if you've made further modifications. Remove the custom ad blocker rule(s) and the page will load as expected.