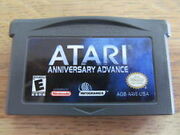 Ok let me put it to you like this one is on a different console and this is a true story so let me begin
In what seemed to be the last few days of the school year I decided to take my game boy advance SP with only 2 or 3 games. But I manly played Atari anniversary advance since I count take Pac man do to my sister would kill me if I lost it.
So after a couple of hours playing something strange happened after I got done playing tempest. All I saw was missile command so I tried playing it and it wouldn't work so I went to the settings and at the bottom it had some words I cant remember what it said but I know a bit of it.  It said trucks must bring missiles to the silos. I didn't know what that means but I knew something was up. So I turned it off and put the cartridge some were it wouldn't be played again. 
Ad blocker interference detected!
Wikia is a free-to-use site that makes money from advertising. We have a modified experience for viewers using ad blockers

Wikia is not accessible if you've made further modifications. Remove the custom ad blocker rule(s) and the page will load as expected.