Ok guiz im rely scared no the monsturr kill me friend and no he come for me help. help. help.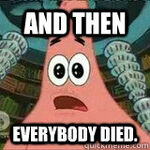 THEN EVERYONE DIED.
I dint no wher I am but al I no is that the last thing I sawed was a super scary pictur of IT (IN ALL CAPITULLLS!!!). He wer grin at me I got scard then blackness to redness to darkess again, like un of those intro in... I forgot but its not important. Than my vishin camed back wher I was surunded by IT. He grinns at me laffs for a while and then says them evil words,
"You've met with a terrible fate, haven't you?"
THEN I DIED AGAIN THE END
Guiz dis ish mah first pasta so plz no haturrs, no likes them thangz.
I-I don't even comprehend what I've just done... 
Steel, The Mark of Insanity 03:30, July 30, 2014 (UTC)
Ad blocker interference detected!
Wikia is a free-to-use site that makes money from advertising. We have a modified experience for viewers using ad blockers

Wikia is not accessible if you've made further modifications. Remove the custom ad blocker rule(s) and the page will load as expected.