In the spirit of the Holiday season, I give you a wondrous, and magical Yuletide treat. Below we have the debut match of a wrestler called the Christmas Creature! Those who follow pro-wrestling might be interested to know that the man behind the mask, candy-cane stripes, and tinsel would debut 5 years later in the WWF(E) as the brother of the Undertaker; Kane.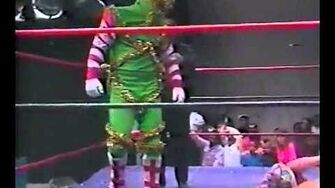 Ad blocker interference detected!
Wikia is a free-to-use site that makes money from advertising. We have a modified experience for viewers using ad blockers

Wikia is not accessible if you've made further modifications. Remove the custom ad blocker rule(s) and the page will load as expected.