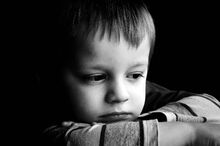 Oh my darling...
With your tight string of pearls around your neck, how it chokes you. 
You are indeed a beauty full of purity. 
As you stand there with your cheeky red cherry grin. 
Yeah darling you and I go way back. 
As you chop up today's dinner with your long knife, yeah blood is the greates highlight. 
Ya put that knife back and you give me that usual cheeky smile. 
Oh honey how you bore me. 
You always come in with that same old grin. 
The beauty has faded. 
The purity fainted. 
But most of all vibrant red is now a tainted black. 
Perhaps from the guilt of your past. 
Your mascara is a chunky black. 
Oh dear... You are turning into a kelpie. 
You and me are both growing... 
But while I turn twenty you turn forty. 
That's when I saw... 
That all I ever was, is your experiment toy. 
You lied to me. 
I'm not your lover honey. 
I'm just your son. 
So f*ck off b*tch. 
Who do you think you are????
Ad blocker interference detected!
Wikia is a free-to-use site that makes money from advertising. We have a modified experience for viewers using ad blockers

Wikia is not accessible if you've made further modifications. Remove the custom ad blocker rule(s) and the page will load as expected.